painting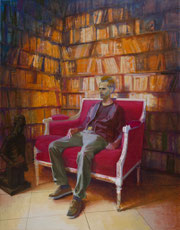 | perception and everyday culture
july 13 - 26
program

the class "perception and everyday culture" focuses on how to address fundamental life questions that truly interest and challenge the individual participants on a personal level through art. the relationship between the personal sphere and the social realm will be considered and explored. what is the relationship between one's personal perceptions and our everyday visual culture—images found in the media, in advertising, on the internet? this question can provide fruitful space for analysis and creative activity.
an important goal for the program is the development of the participants' painting technique, although other media and techniques are welcome.
the participants should already have experience in painting or other artistic techniques (photography, videography, installations), as well as be prepared to engage in (thought) experiments during these two weeks of artistic activity in order to be able to gather creative impulses for subsequent artistic work.
ákos birkás has taught at several universities for the arts, he participates in the biennial and is one of the most important artists in hungary. his works are represented in numerous collections and museums around the world.