painting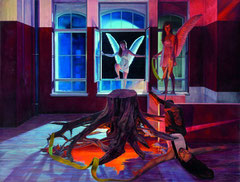 | the double floor of painting
august 10 - 23
program
in his class "the double floor of painting," aris kalaizis and the participants will embark on a common search for the picturesque image. at the beginning is the intended, artificially created nothing, in which the individual ideal, an image that does not yet exist in reality, is found. then they work on the technical refinement together. the two-week long course offers practical fundamental aesthetics for lovers of painting.
the participants can bring to the class an idea, a draft, photography, or any other suggestion; everything that is of service to painting is allowed. this is about the practice of the visual, seeing bare reality leads to newly conceived worlds. these then appear, following the clarification of questions regarding composition, on canvas.
class participants will rediscover the subtle method of oil painting. the correct primer, the effect of base coats, which pigments lend stability to the painting—all these fascinating processes between alchemy and technology will be investigated and transposed into painting.
prerequisites: the participants should have prior knowledge of painting
aris kalaizis creates his paintings, most of which are based on his dreams, with the help of complex stagings or constructions. the scenes in his pictures, which often border on the surreal, derive from ideas that kalaizis records in a method similar to a screenplay. the culmination of this creative process are pictorial ideals of inner worlds of possibility.