konrad winter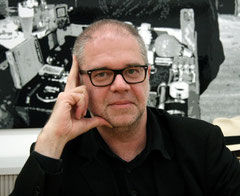 biography
born in salzburg in 1963, he has worked as a freelancer artist since 1985, with longer stays in cologne, paris and frankfurt. konrad winter reflects medial images in his work. his camouflaged paintings contain different levels of information, depending on the distance of the recipient.
1990-2008 guidance of a class at the international summer academy of fine arts/salzburg; 2000-05 lectureship at the academy of advertising design salzburg; 1994-99 guest lecturer at the mozarteum university/salzburg
many works for public areas, among others
2008 société générale frankfurt; 2007 ennepe financecenter gevelsberg; 2006 sparkasse menden in the sauerland; 2005 university medical center freiburg, pathologic institute; 2003 historical personalities, glass wall, heiligenstadt/thüringen; 2001 headpieces, sparkasse fulda; 1998-2002 car park rails station salzburg; 1996 endoscopy doors, deaconess hospital salzburg; 1995 "dog", "scene"-courtyard salzburg.
exhibitions and participations, among others
2011 galerie pro arte, freiburg, zdf-studio, brüssel, 2010 davisklemmgallery, frankfurt a. m., quadrart dornbirn, galerie alex schlesinger, zürich 2009 gallery maek-hyang, daegu, korea (republic); insa gallery, seoul, korea (republic); emsdettener kunstverein, deutschland; nexus kunsthalle saalfelden, österreich; 2008 gallery h, seoul, korea (republic); galerie der stadt salzburg; "no peanuts" davisklemmgallery, frankfurt/m.; 2007 galerie de lee, seoul, korea (republic); galerie alex schlesinger, zürich; 2006 galerie von braunbehrens, münchen; 2005 "vom bild zum bild", museum der moderne, salzburg; 2004 börse münchen, curated by dsv kunst kontor, stuttgart; galerie der kunstakademie bangkok.